UPLIFT 900 Height Adjustable Standing Desk in Solid Wood - Walnut
While our flagship model UPLIFT with laminate top works for most people, you're not most people. Sure, the quick and quiet electric height-adjustable base will wow people, but what about the rest of your desk? You need an executive desktop that reflects you and your style. That's why we offer the UPLIFT Standing Desk with Solid Wood Top, a one-of-a-kind pairing of height adjustable technology and real, natural wood. The beautiful, hand-crafted real wood top is made to order by our woodworker, here in Austin, TX, exactly to your specifications. Available in over 10 different woods and customizable in size to the quarter inch, the 900-series UPLIFT Standing Desk with Solid Wood Top gives your desk a personal touch and a gorgeous natural wood top to perfectly complement the sleek and modern sit-stand technology underneath.
Solid Wood Desk Features
26" of smooth, quiet height adjustment with a soft start/stop motor in each leg
Low-draw transformer for energy efficiency
Frame telescopes to accommodate a variety of desktop sizes
Crossbar positioned directly underneath desktop to free up leg space
Optional upgraded keypad with digital readout allows you to store up to four preset heights
Handcrafted solid wood tops made to order
Manufactured in Austin, Texas, from parts sourced both globally and in the USA
Desktop 
Click the links below to see the other color options.
                     Walnut                           Knotty Alder (Dark)                        Pecan (Dark)                             Mesquite (Square)
             Mesquite (Barkline)                    Ash (Dark)                              Sipo Mahogany                             Cedar (Square)
             Cedar (Barkline)                  Knotty Alder (Natural)                             Cherry                                       Bamboo
                White Oak                              Pecan (Natural)                                  Maple                                     Ash (Natural)
Desktop Size
The UPLIFT Standing Desk with Solid Wood Top is available in several standard sizes.
Frame Color and Style
The C-frame is our most popular option. It features curved recycled aluminum feet, with the legs offset towards the rear of the desk. This positioning provides extra stability and 3.5" of additional space under the desktop for accessory installation. You can also upgrade to our four-leg frame for even more stability and lifting power.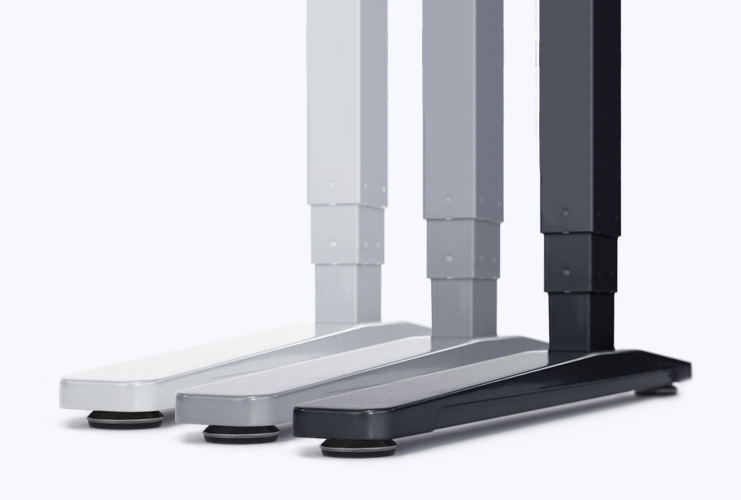 KeyPad
Desks come standard with a two-button up/down keypad. You can also upgrade to the advanced keypad with four memory positions and digital height display. The advanced keypad allows you to save your preferred height settings for quick and easy adjustment. To adjust to your programmed setting, simply press and hold the numbered button.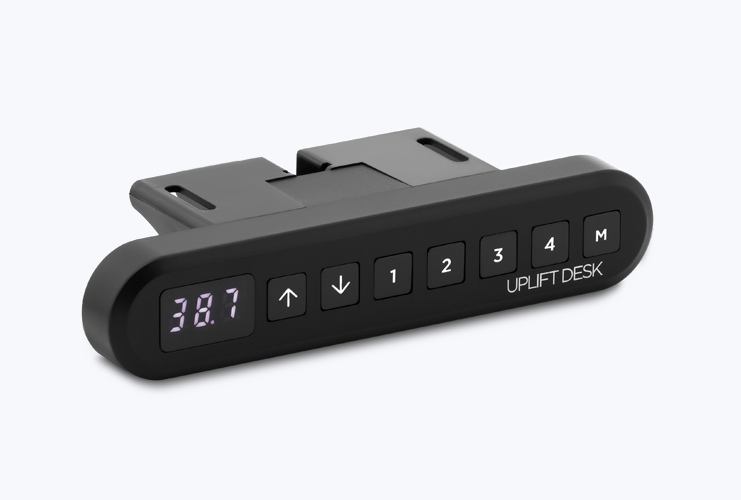 Grommet Holes (Optional)
For extra cable management, you can choose two grommet holes, or upgrade to power grommets for outlets built right into your desktop. White tops are currently available with or without grommet holes.
Other Discounted Optional Accessories 
[powr-faq id=1f85bd1e_1462524865162]
Dimensions
UPLIFT Standing Desk with Solid Wood Top
Height range including desktop thickness
Two leg: 25" - 51" (add 0.75'' for C-frame)
Four leg: 25" - 50.5"
Travel speed
1.5"/second (varies - slowest with maximum load) with soft start/stop actuator motors
Sound Level
45 decibels during motion
Weight capacity
Two leg: 355 lbs
Four leg: 710 lbs (Weight capacity assumes that weight is distributed evenly between the desk legs)
Desktop weight
Cedar: 4.4 lbs/sq ft
Mesquite: 8 lbs/sq ft
Alder: 4 lbs/sq ft
Ash: 7 lbs/sq ft
Cherry: 5.3 lbs/sq ft
Natural Maple: 8.1 lbs/sq ft
Walnut: 5.6 lbs/sq ft
Premium Bamboo: 6.1 lbs/sq ft
Pecan: 9.3 lbs/sq ft
White Oak: 7 lbs/sq ft
Sipo Mahogany: 6 lbs/sq ft
Desktop thickness
Solid wood - 1.75'' thick
Bamboo - 1.5'' thick
Desktop width
36" W - 80" W
Base width
Adjustable from 26'' - 70'' W
Keypad
Advanced 1-touch digital memory keypad* is available
Push and hold up/down keypad comes standard
Adjustable foot leveling studs
3/8" adjustment for uneven flooring
Voltage
Input: 110 V
Output: 31 V
Transformer power
200 W (0.2 W on standby)
Power supply current
5 amps
BIFMA/ANSI X5.5-2008 Certified
Yes - completely meets all requirements of BIFMA/ANSI X5.5-2008 Test Sections 4.3, 4.5, 5.2-5.5, 6.0, 7.0, 8.0 & 15.0.
Warranty
7-year all-inclusive warranty on the entire desk base, which includes the motor, frame, controller, keypad, electronics and mechanisms. Optional extended warranty available when selecting desk options